Governing bodies
DNA's governing bodies comprise the general meeting of shareholders, the Board of Directors and the CEO. The Executive Team assists the CEO in the management of the company and the Group.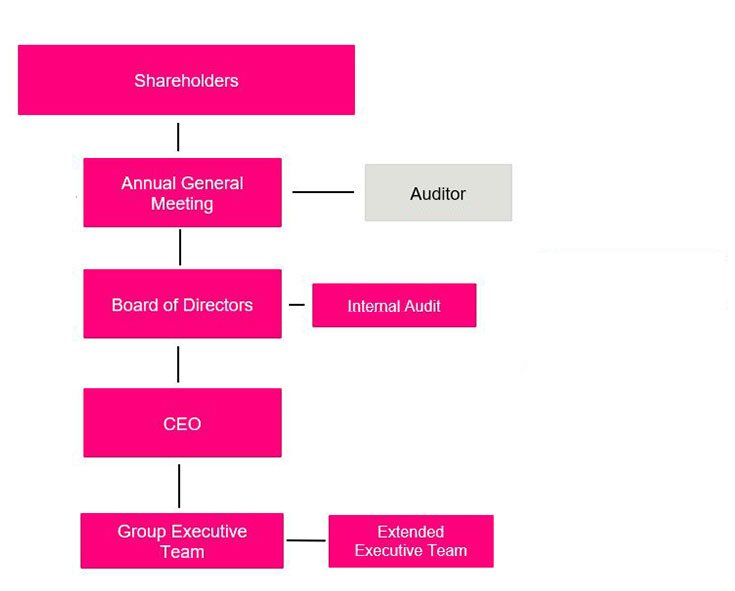 General Meeting
The General Meeting is the highest decision-making body of DNA. DNA Board of Directors convenes the General Meeting, prepares the matters to be discussed and implements the decisions of the General Meeting. The Annual General Meeting (AGM) is held once a year within six months of the end of the financial period, at a time specified by the Board of Directors. The meeting discusses matters that fall within the scope of its responsibility under the Articles of Association and any other proposals to the AGM. Extraordinary General Meetings can be held as required. General Meetings take place in Helsinki.
Board of Directors
According to the company Articles of Association, the DNA Board of Directors comprises three to seven ordinary members elected by the Annual General Meeting. The Board of Directors has confirmed a written charter on the duties of the Board of Directors, matters on the agenda, meeting practices and the decision-making process. According to the charter, th e Board of Directors discusses and decides on matters that are significant to the Group's finances, business or principles.
The CEO and the Executive Team
The CEO is appointed by the Board of Directors. The duties of DNA's CEO are as specified in the Limited Liability Companies Act. The CEO independently attends to the executive management of the Group according to the strategic principles and goals approved by the Board of Directors and the operational plans and general principles confirmed by the Board of Directors (general competence).
The Group Executive Team comprises the CEO; Senior Vice Presidents of the Group's business segments; the CFO; Senior Vice President, Technology; the CIO; Senior Vice President, Legal Affairs; Senior Vice President, Human Resources; Senior Vice President, Strategy; and Senior Vice President, Communications, Responsibility and Brand Development.