A digitalising society
In an increasingly digital world, it is important to ensure that everyone has the opportunity to be part of the change.
Why is digital inclusion so important to DNA?
Voice and data communications have become a necessity for people and society at large and it is difficult to manage without good connections. Products and services offered by telecommunications businesses may, however, seem complicated, And not everyone has the devices or skills required in today's digital society.
DNA wants to contribute to the promotion of digital inclusion in Finland. We place special emphasis on high-quality comprehensive networks, fast connections, clear and understandable products and services, and excellent customer service. We also support the digital skills of our clients and the general public by publishing articles and surveys. DNA also wants to help those most vulnerable standing on the other side of the digital divide.
We continue our partnerships with SOS Children's Villages Finland, Helsinki Mission and Hope. In 2021, we also launched new partnerships with Protect Children and Plan International Finland. In 2022 we have also started a new partnership together with VTKL – The Finnish Association for the Welfare of Older People.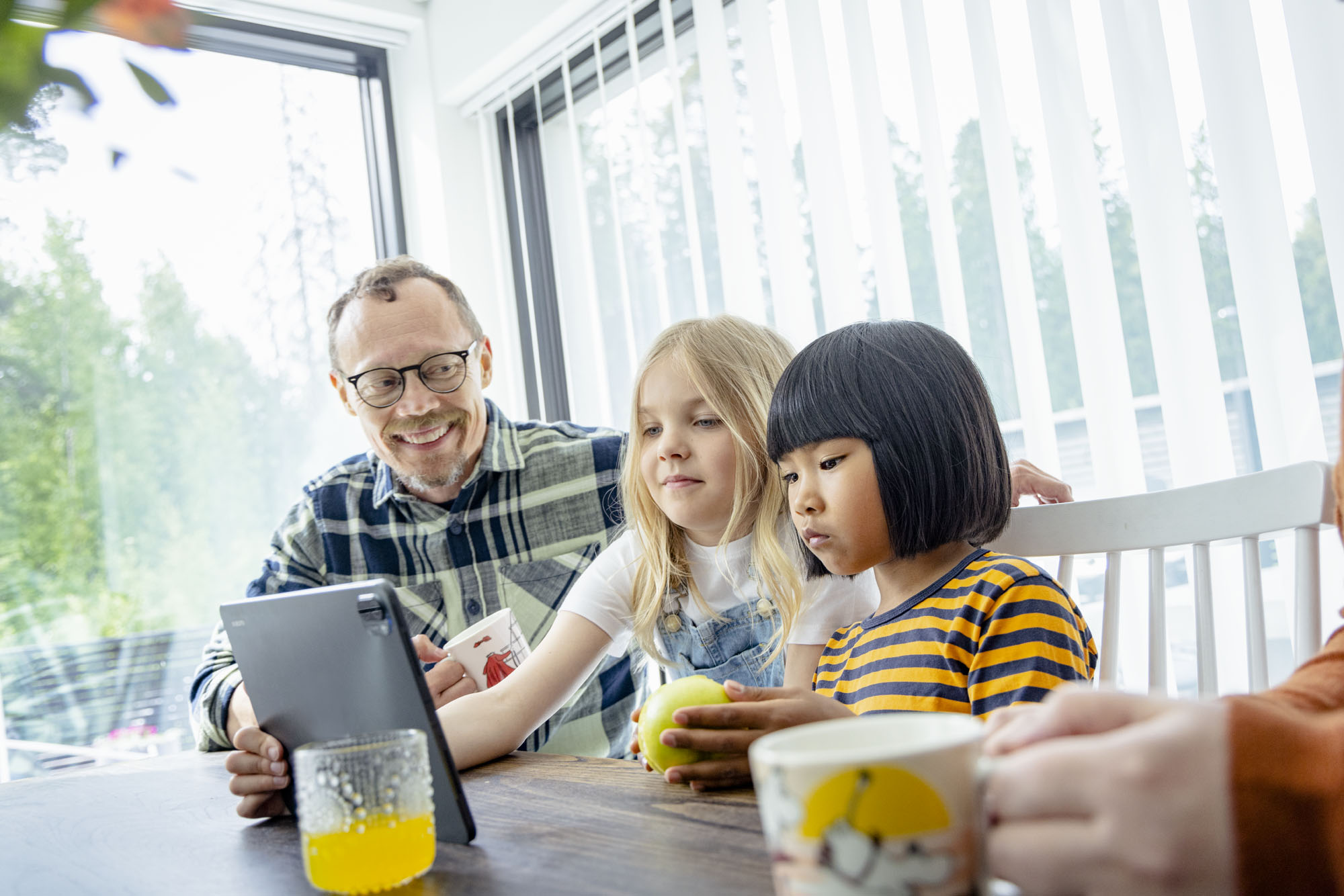 How our work is governed
We also want to stay awake on current population trends in Finland and therefore we conduct surveys (in Finnish). Data from the surveys helps us improve customer experience, understand customer needs, develop our service offering, and share valuable information on digitalisation for the society at large.
We cannot achieve digital inclusion in alone. We need to work together with partners to make our work more effective and to bring expertise to the table to make sure those most vulnerable in our society will also benefit from digitalisation. We discuss the results of our work with our partners annually and actively develop better ways to report the results to the public.
The pace of digitalisation is accelerating, and DNA understands that many people sometimes struggle to keep up. We help people increase their safety awareness by publishing articles (in Finnish) on topics including the most common online scams and ways to improve data security.
Our goals and examples of what we do
Our ambition is for everyone to be able to tap into the positives of the digital world.
CASE: Project to promote digital inclusion among young immigrants
DNA and the children's rights organisation Plan International Finland will start promoting digital inclusion and diversity in their new joint project. DNA's main objectives for the cooperation include increasing diversity in its own operations and providing young people with an immigrant background the opportunity to explore the ICT sector as a workplace.
DNA and the children's rights organisation Plan International Finland will start promoting digital inclusion and diversity in their new joint project. Photo: Plan International Finland
DNA has previously aimed digital inclusion-related support at children and seniors, among others, so expanding the work to immigrants was an easy choice.
Exploring the ICT sector and diversity
During the project organised by Plan and DNA, young people aged 16 to 20 will get to know DNA, and they are offered job search advice and work experience in the ICT sector. At the same time, DNA employees increase their knowledge and understanding of diverse work communities, for example, through internal events and opportunities to provide personal mentoring for young people.
"There will be many inspiring initiatives, For example, DNA will host internal events and information sessions on diversity. In addition, DNA employees can volunteer to participate in CV workshops for young immigrants, and young people get to observe the working days of DNA employees. In general, we also want to share with all young immigrants tips based on our experience," says Tuuli Nummelin, DNA's Sustainability Manager.
The purpose of the project is to close the digital divide
DNA has previously aimed digital inclusion-related support at children and seniors, among others, so expanding the work to immigrants was an easy choice.
"Because of their age, digital skills and background, young immigrants are on the other side of the digital divide, which means that they are at risk of being deprived of the benefits of digitalisation and the working life skills required by it. For example, it was bewildering to hear that many young people do not even have a computer or software which they could use to apply for jobs – let alone information on how and where to apply for jobs in Finland," Nummelin adds.
Plan is an excellent partner for DNA in diversity cooperation, as the organisation has already worked with young immigrants for more than ten years.
"We have cooperated with numerous employers over the years and have been delighted to see the great insights created through cooperation with young people. We look forward to hearing what kind of lessons DNA employees will learn through the project," says Päivi Korpela, the Corporate Partnership Lead at Plan International Finland.
The partnership agreement between DNA and Plan International will continue until the end of 2022. The project carried out by DNA and Plan is funded by Telenor Foundation. Telenor Foundation is a fund established by DNA's parent company Telenor, and its purpose is to fund solutions for important social challenges.
CASE: We recycle your old phone for you
Finnish people are purchasing new phones at a fast pace and the recycling of old devices is important. Information security and environmental friendliness are both important aspects to consider when recycling. Mobile phones contain plenty of materials that can be reused.
Recycling of mobile phones also reduces greenhouse gas emissions. By recycling one mobile phone DNA can reduce carbon dioxide emissions by approximately 40 kg, which corresponds to a roughly 220 km drive with a passenger car.
CASE: Nordea and DNA promote senior citizens' digital skills
We teamed up with the Nordea bank to offer a ready-to-use tablet aimed especially at senior citizens. As a result of delighted feedback and increase in demand, the ready-to-use Nordea tablet has since been extended to become a service that covers the whole of Finland.
All banking services are pre-installed on the Nordea tablet and advice and instructions are available at all DNA Stores and Nordea banks. The package is sold below its normal price and includes a tablet suitable for online services and an interface for easy and flexible use of those services. The service is primarily aimed at customers who do not yet own a smart device.
"We want to support senior citizens with the use of their first mobile device or smart phone. If there is enough hands-on help and advice available when you first start using a new device, use of the device is usually off to a smooth start. If digital services are seen as easy and safe to use, they become a part of everyday life", says Sami Aavikko, Managing Director of DNA Store Ltd.
To pick up a tablet from a DNA Store, customers need a token provided by Nordea. Tokens are available from Nordea offices and the 24/7 customer service.
CASE: Digiakatemia helps entrepreneurs improve their digital skills
Digiakatemia is a free online digital training course open to all small businesses. DNA organises the course in cooperation with Suomen Yrittäjäopisto. The course has been designed to improve entrepreneurs' digital skills in the rapidly changing digital world. Participants will learn about aspects of information security, social media marketing, cloud-based tools and important devices that are relevant to entrepreneurs.
The online course can be taken when it best suits the busy life of an entrepreneur. The only tool participants need is a smart phone or a computer.Digiakatemia helps entrepreneurs improve their digital skills